Northeast Georgia Urological Associates Website
A urologist with his own disease: How one man's loss (his prostate) is your gain.
Clarion ForeWord Five Star Review of "The Decision."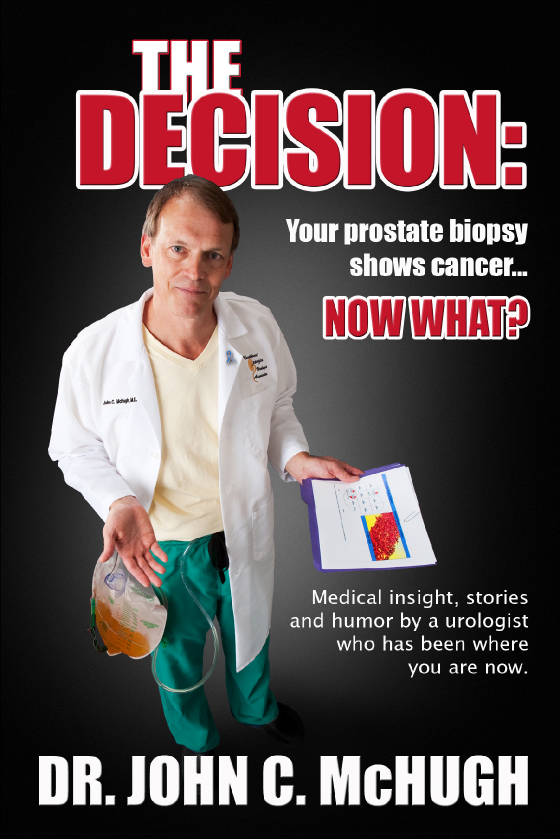 The urologist I chose to do my surgery I had never met, spoken to, or recommended to anyone. At my initial appointment, his nurse escorted me to his office, where he was waiting. After shaking hands and introducing ourselves, there was a somewhat uncomfortable pause, with the two of us sitting across from each other in silence. It was odd, two urologists who had never met, one needing surgery for something that both were accustomed to treating.
"So, doctor…" he said, "you have your own disease."
Over 200,000 times a year in the U.S. a patient is told by his urologist that he has prostate cancer. What he thought was a benign disease of old men of which few die, now presents a very complicated and frustrating dilemma about which treatment to pursue. The newly diagnosed prostate cancer patient does not need a comphrehensive text book on prostate cancer; rather, he needs to know what is pertinent and specific to him in making his decision on how to treat it. The Decision offers the reader an insider's view to the key issues necessary for a well thought out treatment plan that is unique to him. In addition to having treated patients with prostate cancer for over twenty years, Dr. McHugh has been through the decision making process and has been a patient himself. This uniquely positions him to be of significant aid to the newly diagnosed patient. Through an eclectic mix of medical insight, personal stories, and humor, The Decision serves as a very necessary "arrow in your quiver" in your journey to "The Decision."
I don't want you to do what I did.
I am recommending that you make your decision the way I did.
The Decision shows you how in a novel and eclectic way.