Chloe and a Chattahoochee Shoal Bass
I was in my office when my nurse said there was a phone call for me. "John, this is Tom and I was wondering if we could go fishing up at your river place this Thursday afternoon." Fishing is my passion, so someone asking me if I wanted to go fishing was, as my mother used to say, "Like Br'er Rabbit saying to the fox, 'Oh, please don't throw me in the briar patch.'" The little cabin that Tom mentioned is a small structure on the Chattahoochee River near the Habersham and Hall County line, an area Sidney Lanier mentions in the opening lines of his poem "The Song of the Chattahoochee": Out of the hills of Habersham/Down the valleys of Hall... (My mother loved this poem; my grandfather's home place was on the Chattahoochee River just south of LaGrange, Georgia.) The beauty of the place is that this area of river holds what some call Georgia's unofficial state fish, the shoal bass. "Shoalies" behave like bass in their fighting ability and tastes for food, but live in and around rocks (shoals) in moving water like trout.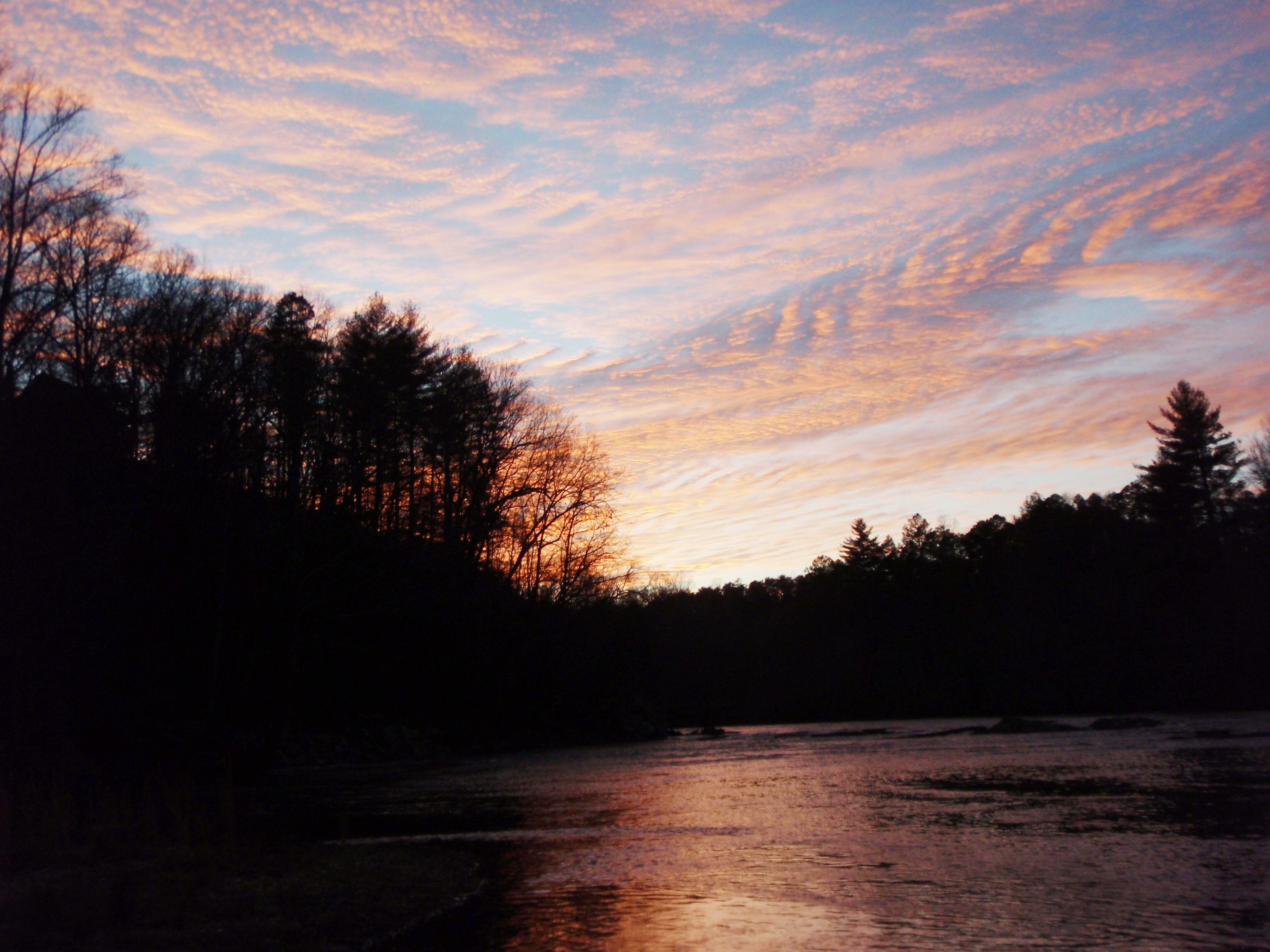 Chattahoochee River above Duncan Bridge at dusk.
Dr. McHugh has been a private practice urologist in Gainesville, Georgia, for over twenty years. He was a R.O.T.C. cadet and received his undergraduate degree in Chemistry at North Georgia College in Dahlonega, Georgia. He went to medical school and did his urologic residency at the Medical College of Georgia in Augusta, Georgia. He and his wife Karen have been married twenty-nine years and have three children. His interests include history, his dogs, and anything related to water and fishing. He was diagnosed and treated for prostate cancer in 2007. Witnessing for years the frustration of his patients making "the decision" regarding which therapy to choose and then having to experience it himself, prompted him to define the decision-making journey for others. During the three months it took for him to decide, it became clear that the decision is multifaceted and depends a lot on the patient's particular situation at the time of diagnosis. Combining his story-telling abilities with his medical insight and experience, Dr. McHugh offers the reader a fresh and novel approach to deciding what to do about his prostate cancer.
John and Chloe on the upper Chattahoochee
"Dr. McHugh, what would you advise me to do if I were your father?"
I am asked this question very often after telling a family that a biopsy shows prostate cancer. I almost anticipate it and have to be careful not to smile after hearing it; certainly a smile after delivering bad news would come across as inappropriate. The irony of the question is that I am not a big fan of my father. He left my mother and her five boys when I was in the seventh grade and moved to Alaska. (That he went to Alaska reminds me of Jonah rejecting God's command to go to Nineveh. Jonah instead went to Tarshish; a location that was not only in the opposite direction but a "far and distant land." I have often thought that Alaska was my father's Tarshish.) I saw him only one time after that, when he showed up at my part-time job during the Christmas break of my freshman year in college. He quizzed me briefly about my grades, told me that his had been better at Auburn University, and then left. I never saw him again. After the divorce, my mother, brothers, and I moved to LaGrange, Georgia, to live with my grandmother Bess Davis who was 73 at the time. Looking back on it, this was one of the best things that could have happened to me. LaGrange was a great place to grow up, I adored my mother and grandmother, and I feel that not having a father to depend on made me a stronger person. So, when the inevitable question comes up, I fight back the smile and answer the question as if it were a good one, in the context of a normal father-son relationship. Rarely, however, after failing to withhold the smile, I've said, "That really is not the best question to ask me in light of my past relationship with my father. Considering the part of the male anatomy urologists work on, you might not like what I would recommend."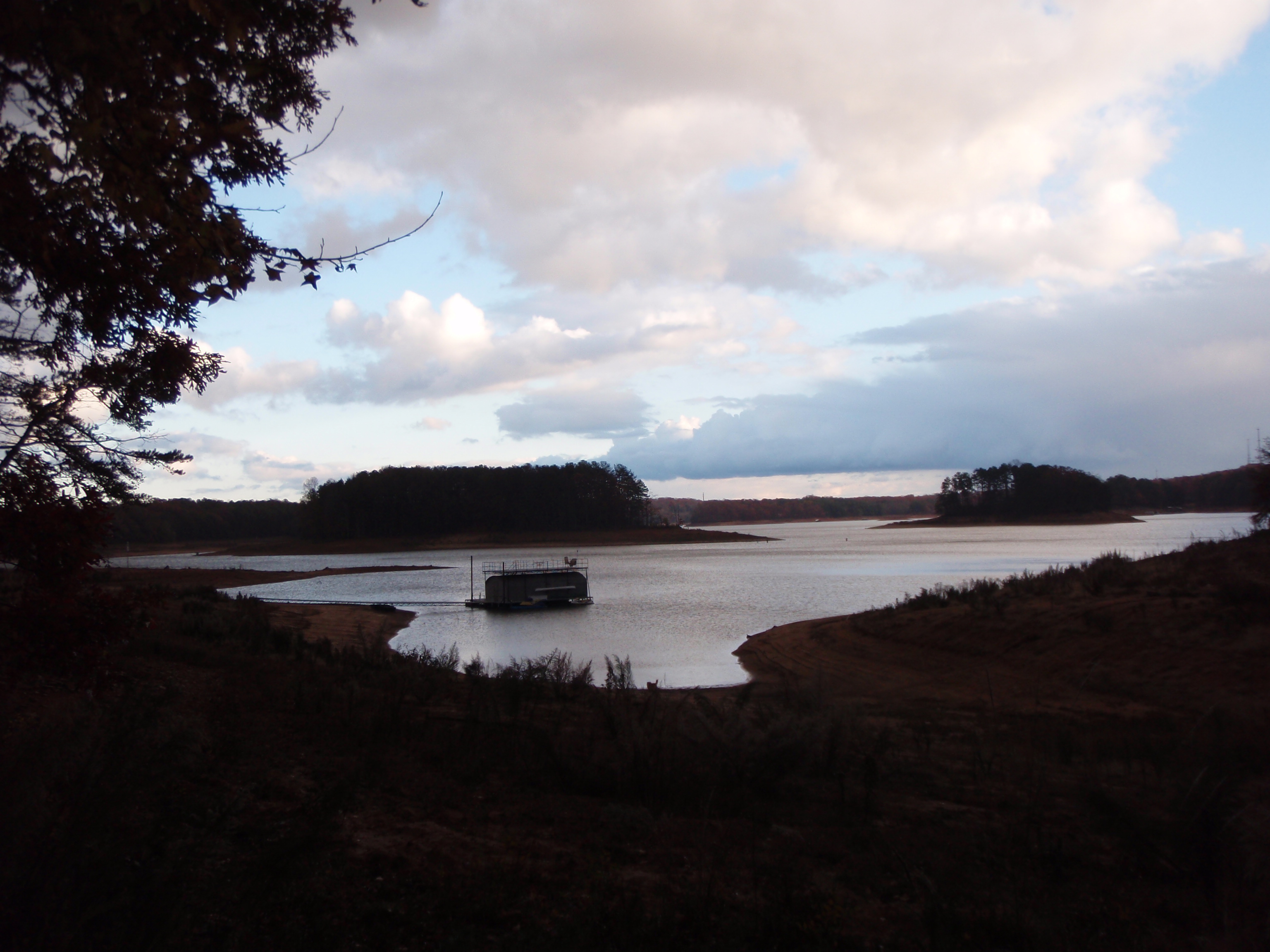 Lake Sidney Lanier-Just before the street lights come on.
That evening my wife and I met at a little cabin we have on Lake Sidney Lanier, which is not uncommon on my half-day off on Thursdays. I had not told her that there was an issue with my PSA or that I had had a biopsy that day at lunch. I debated mentioning anything to her before I knew the biopsy results, but I chose to have her involved in the drama of waiting for the results and all the possibilities that entailed. "Karen, I had Bill do a biopsy on my prostate today. My PSA is slightly elevated, and I want to be sure that it doesn't mean that I have a problem." (Remember, you don't start with the C word, you tell a patient and his wife, "There may be a problem with," " They found something," or "They have some concerns about...") We were sitting on the cabin's porch at the lake, and I had a panoramic view of the little piece of property where I spend a good portion of my weekends cutting grass, fishing, and working on the little vegetable garden we have there. My weekend ritual has become for our dog Chloe and me to pack up the trash in the back of my 1985 Toyota truck (my first car with air conditioning), take it to the county compactor, and then go to the lake. For years I have spent my weekends out there, always making a point to be home, as my mother would say, "by the time the street lights come on." As we were sitting there, out of nowhere, I said, "I don't really love this place Karen. I enjoy coming out here, but I don't really love it. I mean I wouldn't really miss it." She looked at me with disbelief. "What are you talking about John? You know you and Chloe love this place; are you thinking you are going to die or something? That's crazy." My wife, and most patients who have their prostates biopsied, don't understand the possibility of having the "bad" kind of prostate cancer, the Frank Zappa kind. Frank Zappa died shortly after being diagnosed with prostate cancer, at the height of his musical career, in his 50s. That was my fear, and I will tell you it was real. As I pondered the possibilities of my pathology results, I gravitated to an acceptance that having the "slow-growing kind" of prostate cancer would be okay, but I prayed, "Please don't let me have the bad kind." If you have favorable parameters, you may die of prostate cancer but it will take many years. If the biopsy has unfavorable parameters, the prognosis is unpredictable, with a higher likelihood of the cancer progressing quickly. I had seen this played out in patients of mine; I knew this, but my wife and family did not. I elected not to elucidate my concerns about the dual nature of prostate cancer to my wife; I felt I had awakened her enough to my concerns. This time period of "waiting on the results" really gets you thinking, and I was becoming very philosophical about my mortality, with a mentality of "what will be, will be" starting to set in.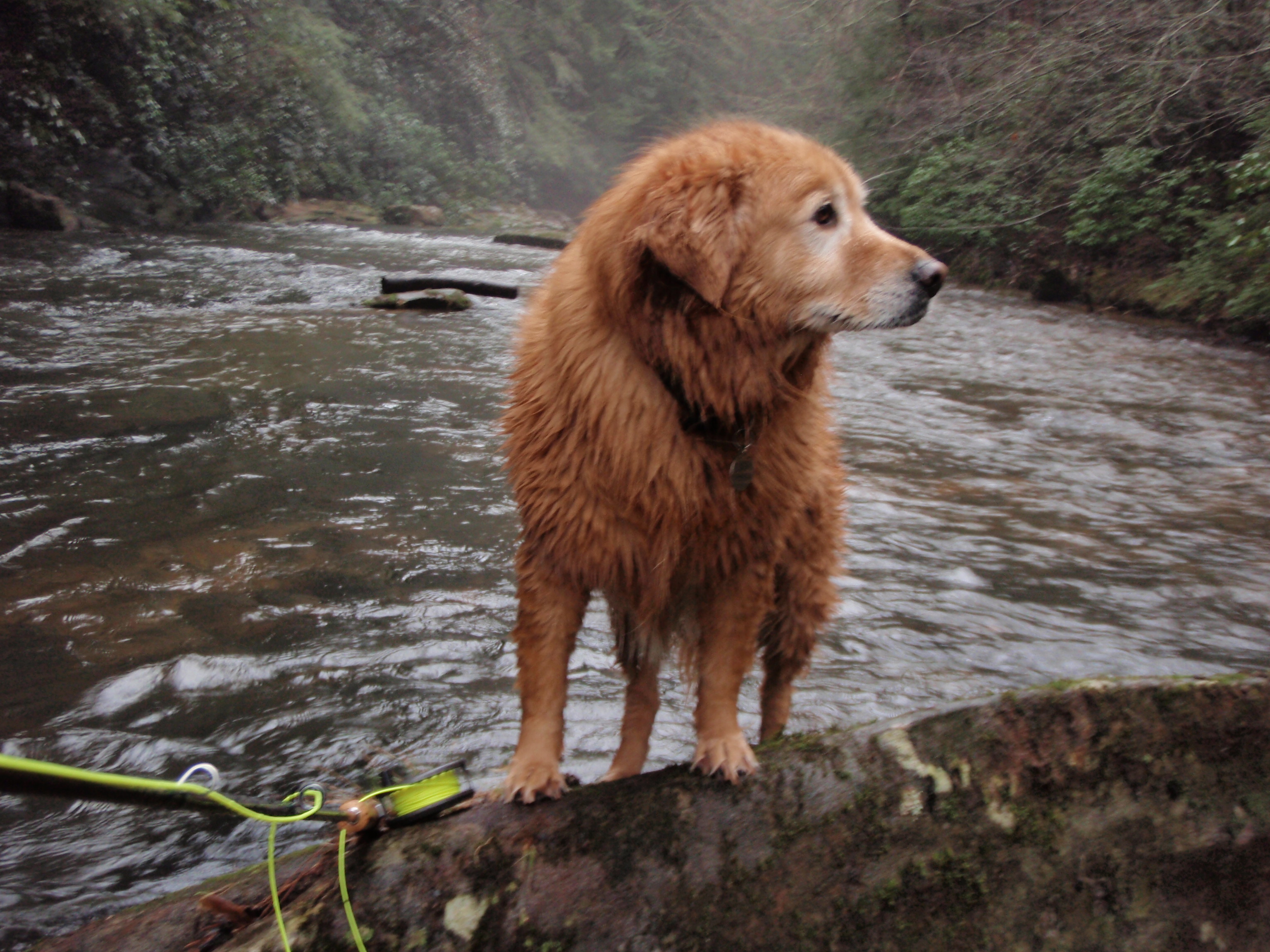 Penelope came into the picture "after" the prostate cancer
John's Leg Bag Movie: Sometimes you just have to laugh. Two months after his radical prostatectomy.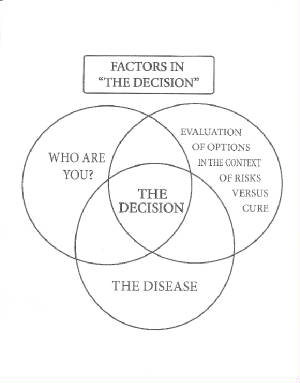 "Who are you?" issues: Your general health, the specifics of your biopsy, your bias for or against surgery, your preconceived notions about prostate cancer, your age , and your job situation all fill a unique role in what treatment you'll choose. Your concerns regarding cure rates and the potential for the risks of a particular treatment, will also play a vital role in your decison. In time you will, as I did, blend all of the factors to reach a consensus that is peculiar to you. The Decision clearly delineates to the reader all the pertinent issues necessary for your decision and helps you place each in its rightful place for a decision customized to you. I had to decide what was important to me and what took priority in terms of risk vs. benefit, just as you will, to make the decision I felt was right for me. I think you will find The Decision presents the problem and the options for the solution to your current dilemma like no other resource you will find, and it comes from someone who has not only treated the disease, but has been through this decision process as a patient himself.